Friday Fill-In...#55...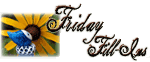 1. The last compliment I got was from
my mother's nurse
; she said
I was really doing a good job caring for my mother
.
2. I'm reading
Marley and Me by John Grogan; as well as Edge of the Earth, Corner of the Sky by Art Wolfe
.
3. I woke up today and thought
I am really ready to get the last of these boxes unpacked.
4. Why does
it get cold as ice one day and then up in the 50s the next?
5. The last thing I ate was
Black beans and yellow rice and sausage. And, for dessert, New York style cheesecake
.
6. January...
always goes by so fast and the next thing I know it's February 6 and I am a year older
.
7. And as for the weekend, tonight I'm looking forward to
finishing both books
, tomorrow my plans include
to unpack the boxes I have left
and Sunday, I want to
start working on a new quilt
!
Labels: Friday Fill-In; Personal